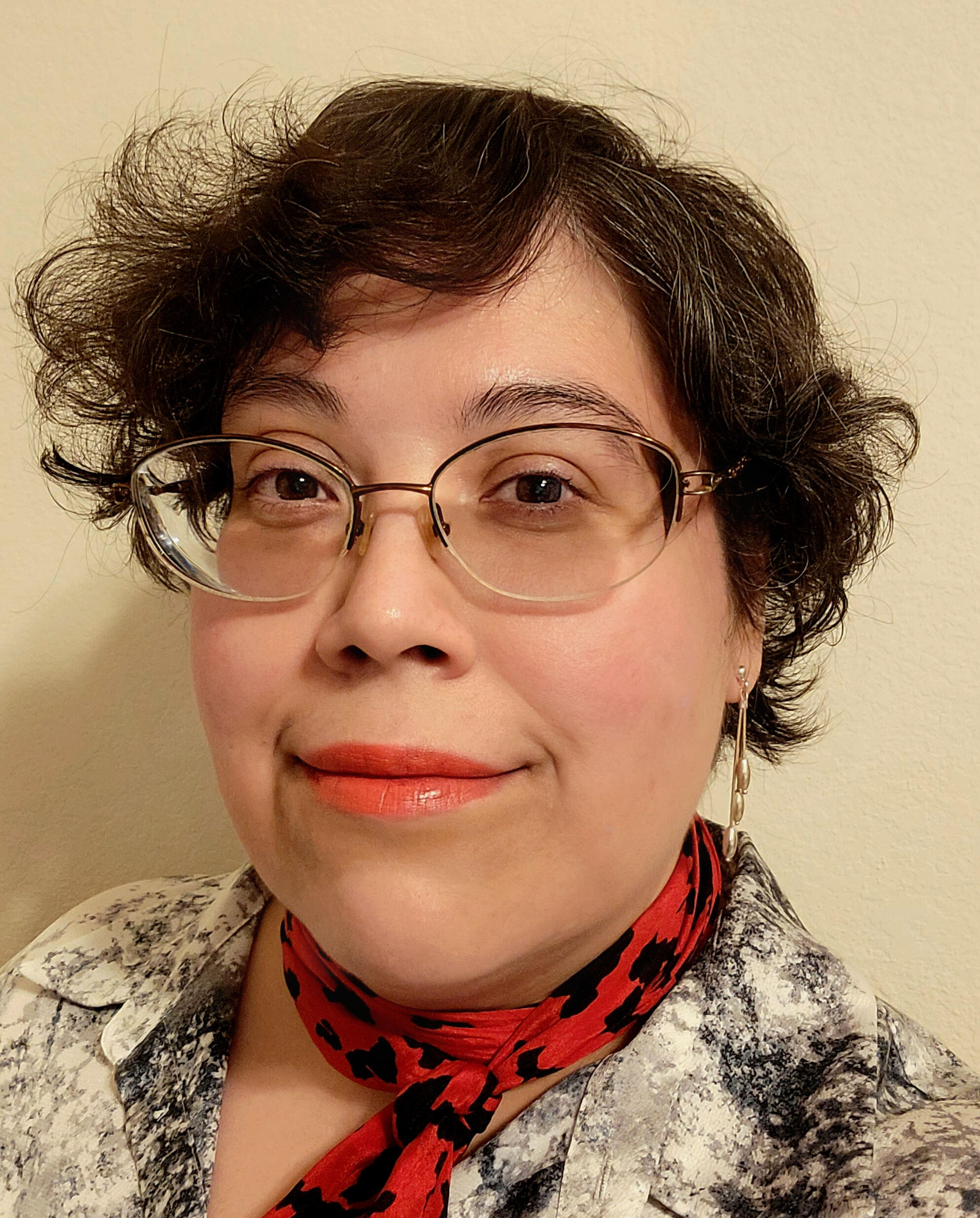 Katrina Pecina
Voiceover Artist
About
---
Katrina is a Hispanic, Texas-based actress who has lived in the Dallas-Fort Worth area her entire life. She has always been fascinated by voiceover, but one voice actor in particular gave the inspiration to pursue it albeit many years later: Candy Candido. Best known as the voice of "Fidget", the gravelly-voiced henchman in The Great Mouse Detective,
Candido's unique sound showed Katrina the world of voiceover truly has a place for everyone.
She has over two year's experience in improv studying, Shakesperean methods, and even performed with an international improv puppet group in September of 2021. In 2022 she debuted in audiodrama as part of the cast at the Bloody FM Podcast Network, voicing grumpy old ladies to teens and more. She continues to learn with many other professionals in the voiceover industry. Acting is a lifelong learning experience and the journey has been blessed with great friends, teachers, and mentors.When not recording, she enjoys drawing and has also illustrated for the I Know You Hear Me! podcast, hosted by actor and pro wrestler Flynn Hendrix.Got an audiobook, game, comic or animation that needs a unique voice? Let's talk!
---
Recording Space
Walk-in closet fully treated for sound absorption
Rode NT1000 XLR Microphone

Sterling H224 Interface

Samson Monitors

Mogami Cables
---
Roles
" Lady Magna"-- Feminist Fairytales Podcast's Briar Rose

"Mike"-- Backstage Psychosis' The Collection: Drive Safe

"Charlie's Mother"-- Backstage Psychosis' The Collection:Voices

"The Voice"-- also Backstage Psychosis' The Collection: Voices

"Gloria Weems"-- podcast series collab with Bloody FM and cryptid creator, artist Trevor Henderson: Fracking episode of the Mayfair Watchers Society

"Maria"-- The Mayfair Watchers Society: The Apparition of Maria

"Klaudia"-- The Mayfair Watchers Society: Society Proceedings

"Sarafina Grant"-- Vox Elysium: A Paperless Pulp Cyber Noir Presented by Flying V Theatre

....more to come!
---
News
4.22.2022 My podcast debut! I play the role of Lady Magna, the intimidating and cunning wise woman in Briar Rose, re-envisioned by the folks at the Feminist Fairytales podcast series!
This is part one of a two-part episode; the second half will be out in a later announcement. I had a blast recording with an awesomely talented cast. Find it on your favorite podcast platform now, including Spotify, Buzzsprout, Stitcher, and Amazon Music! For more stories reimagined through a feminist lens, check them out on Twitter here.5.21.2022 Part 2 of Feminist Fairytales' Briar Rose is out as of earlier this month! Meant to put the news out sooner, but you can listen to the finale here.6.20.2022 I get to channel some of my favorite DJs as devilish radio co-host, Mike, who taunts and teases callers along with showmate Nick in Backstage Psychosis' The Collection: Drive Safe. Listen to it here on Youtube!9.15.2022 On a more personal note, I had to bow out for most of the summer after having to undergo thyroid surgery, but all went well and am now cancer-free and ready to get back into it!11.05.2022 I join the talented folks at Backstage Psychosis once again with two different roles-- one as "Charlie's Mother," tired mom of our main character; the other being "The Voice," never seen but also cannot be ignored. Check out their latest audiodrama The Collection: Voices here on Youtube!02.07.2023 Very excited to share this one! In a collab between the fabulous folks at Bloody FM and horror artist Trevor Henderson comes a series of audiodramas called The Mayfair Watchers Society. I voice the role of "Gloria Weems," a grumpy, elderly resident of Mayfair In yesterday's episode release, Fracking.04.04.2023 I'm back with Mayfair Watchers Society as the tortured teenage protagonist, Maria in today's installment, The Apparition of Maria. THIS ONE IS NOT FOR THE FAINT OF HEART. PLEASE READ THE CW ON THE EPISODE BEFORE YOU HIT PLAY.04.24.23 In this week's Mayfair Watchers Society installment, Society Proceedings, I play "Klaudia," as we reminisce upon a childhood event with friends and fellow Society members.07.01.23 Do you like cyberpunk? Noir? Sci-fi in general? You'll want to check out Flying V Theatre's audiodrama miniseries, Vox Elysium! I play no-nonsense baddie Sarafina Grant, who really loves her job. Listen here at their site where the full list is available; or on Spotify!09.07.23
Into SCP lore? Hope you've been listening to the SCP Archives podcast! My character "O'Keefe" hits the deep seas with Foundation crew in SCP-5186: The Depths That Hunger. Take the plunge!
Bonus Bits:
I've also had some mini-roles here and there in earlier episodes as "Draga Negrescu" in SCP-2191: The Dracula Factory; "Carson" in SCP-5322: The Road Stretches On; and a quick bit as "O5-1" in SCP-6789: Return, Return, Return.>More to come!> For otherwise-related collabs, sketches, and much more, follow me on Twitter @KatrinaPecina For voice acting-related absurdity and general daily derpiness, I'm also on TikTok.
---
Contact
---
For business inquiries and rates please send to: [email protected]